---
Lookin' back at ABLE '98
Ann Lumsden reflects on some of the conferences highlights
Ann's (delicious) banana pudding recipe
Group photos at Wakulla Springs
Saturday field trip: manatees and birding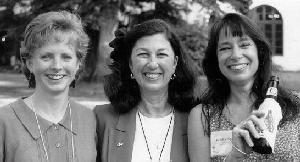 Host Ann Lumsden (center), with assistants Robin
Smith (left) and Trisha Spears, at Wakulla Springs.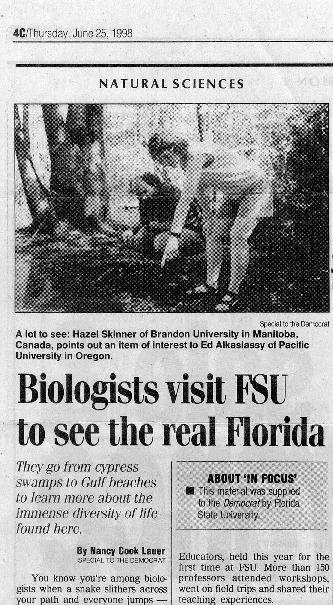 ABLE makes the news in the Tallahasee Democrat
[Pam Lopez (Pacific U., Oregon) is incorrectly identified as Hazel Skinner.]
(full article)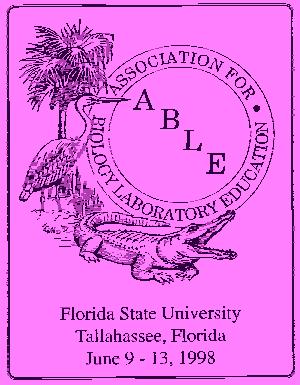 ABLE '98 logo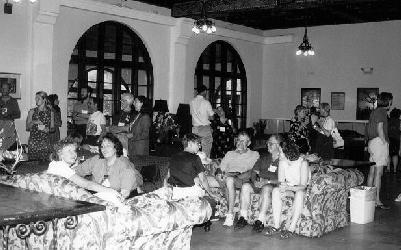 Reception before conference dinner at Wakulla Springs Lodge.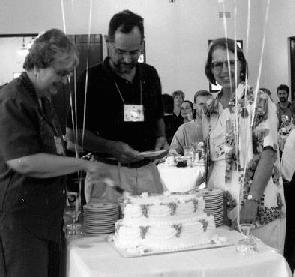 Ruthanne Pitkin (left), Jon Glase, and Anna Wilson,
all chartered members of ABLE, serving the 20th
anniversary cake at Wakulla Springs Lodge.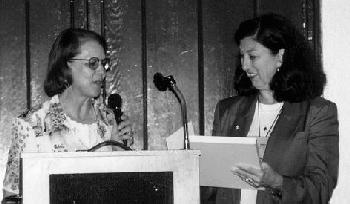 ABLE President Anna Wilson presents "thank you" plaque
to ABLE '99 host Ann Lumsden at Wakulla Springs Lodge.
---
20 Years of Biology Labs!
1998 ABLE Conference at Florida State University
Ann Lumsden, 1998 Host
The 20th Anniversary meeting of the Association of Biology Laboratory Education met this year in Tallahassee, Florida, at Florida State University. There were 152 participants gathered on Tuesday night at the Tallahassee Museum of History and Natural Science for the welcome dinner. Upon entering the outdoor natural history museum each guest was given a cup of boiled peanuts which is an hors d'oeuvre of the "South". For 30 minutes everyone toured this gorgeous museum of long leaf pines, short leaf pines, great southern live oaks, magnolias and cypress trees covering the paths to natural habitats of native animals in Florida. Walking on paths of sand or boardwalks ABLE participants visited owls, hawks and eagles, black bears, otters, deer, alligators, wolves, foxes, bobcats, and Florida panthers in their natural habitat. The museum is in a cypress swamp on the edge of a lake. A beautiful summer setting to enjoy a chicken barbecue dinner with home-made banana pudding and lots of sweet ice tea. Florida State Welcomed everyone and one of the founders was recognized and presented ABLE stickers for his name tag — John Glase! John was joined on stage by Charter members: Anna Wilson, Ruthanne Pitkin, Roberta Williams, and Elizabeth Godrick.
The early participants enjoyed a day at Torreya State Park on the Apalachicola River and the Marianna Caverns. The other Tuesday trip was to The Tall Timbers Research Station and to the Pebble Hill Plantation. Lunch at Pebble Hill was beside the lake on picnic tables with fried chicken, pimento cheese sandwiches, curried fruit, potato salad, home-made brownies and sweet ice tea; all of this was presented to us in white wicker baskets with a ribbon on the handle.
Wednesday there were six labs offered on campus and three field trips, A Marine Biological Exercise presented on the coast of Florida, A Marine Behavioral Adaptation to Environmental Change lab on the coast, and a birding trip in a long leaf pine forest. The Wednesday "Lunch and Learn" was presented by the Vice President of Academic Affairs at Florida State, Dr. Lawrence Abele. His talk was on "Teaching Evolution at the College Level". In the hall outside the "Lunch and Learn" and the lab rooms Elizabeth Godrick made and hung wonderful posters of each of the 20 years of ABLE. If you missed them in Tallahassee, they will be posted in Nebraska!
Thursday there were six indoor labs again and three outdoor field trips; Introduction to a Gulf Coast Estuary and Barrier Island System at the Apalachicola National Estuarine Research Reserve, the outdoor classroom learning station techniques at St. Marks National Wildlife Refuge on the Florida Coast, and another birding group. The "Lunch and Learn" was given by Dr. Paul Elliott on "The Biology of Aids" and how to use diseases to teach non-majors. Thursday night, 96 of the participants loaded onto two buses and went to the Nicholson's Farmhouse for dinner. More boiled peanuts!
Friday there were seven indoor labs and one field trip to a cypress swamp. The "Lunch and Learn" on Friday was given by Dr. Sally Karioth and was quite a presentation! She is a motivational speaker who travels the continent as a grief therapist. Sally was certainly a highlight of the conference. Friday night the banquet was at the historic hotel at Wakulla Springs. We began the evening aboard boats motoring on the Wakulla River among the alligators, turtles, snakes, and various birds among the cypress trees along the river. Our banquet meal was served in the formal dinning room over looking the large spring and river. Dessert was a 20th anniversary cake with wisteria blossoms on a two layer oval cake for 130 people! A live band provided music for our enjoyment before and during dinner.
Saturday, 90 participants loaded on vans and went to all points on the coast. One group went to the upland ecosystem of the Apalachicola River; one went to the Apalachicola National Estuarine Research Reserve and visited the river, an estuary, and an island; Saturday at the Sea was one trip (a boat trip), and the other was a canoe trip on the Wakulla River. Saturday some saw manatees, some saw porpoises, some saw sharks, eagles, pelicans, and many other invertebrates and plants.
What a wonderful ending to a GREAT 1998 ABLE! All groups ended their trip with a seafood dinner at four of the great restaurants on the coast.
-- Reprinted from Labstracts 20(1), Fall 1998

---
Remember that delicious banana pudding (to feed 150!) at the Welcoming Dinner at the Tallahassee Museum of History and Natural Science, well our host Ann Lumsden made it all. Several people have asked for the recipe, so here it is... Enjoy!
1 2/3 cups of sugar
1/3 cup of flour
1/4 tsp. of salt
2 cups of 1/2 and 1/2 milk
2 cups of milk
4 eggs (separate the eggs)
1/2 tbsp. of vanilla
3 bananas (do not slice until ready to put the layers together)
1 box of Nabisco vanilla wafers
meringue:
egg whites at room temperature (from the above 4 eggs)
1/3 cup of sugar
pinch of salt
1/2 tsp. vanilla
In a heavy boiler add the sugar, salt, and flour...stir together... Add the milk and 1/2 and 1/2 milk mixing well (no heat yet) take the eggs yolks and beat them in their container and add a little of the mixture to them...mix well... Add the egg mixture to the boiler and now heat on medium... stir this constantly while heating... it will burn quickly if you do not stir it. You want this mixture to thicken into the pudding part of the dessert (not too thick...when it cools it thickens more). (I use a wooden spoon.) When mixture is thick add the vanilla and stir in completely. Let the mixture cool to near room temperature. While the pudding is cooling... prepare for the layers of the banana pudding... use a large dish and line the bottom with vanilla wafers... whole vanilla wafers. Next slice bananas to make discs and place these on top of the wafers. (Have the bananas to the ripeness that you like... not green.) Use a cup and pour about a one-half inch to one inch layer of pudding... (I like a three layer pudding, but in an 9 x 9 pan you will have two layers)... another layer of vanilla wafers and bananas and more pudding... one more layer of wafers and bananas and more pudding... end with pudding covering the bananas or they will darken. Now beat the egg whites and when they are completely white and fluffy (like icing) add gradually the 1/3 cup of sugar and the vanilla. Top the pudding with the egg white mixture and heat in a 325-degree oven for 25 minutes... it should be light brown. This dessert is good warm or cold. It is even better the next day (the cookies soften)... but I was advised to not make it for two days later... As you saw the meringue does funny things on the second day. (But, people do eat it any day until it is gone!) Refrigerate to store. Bon apetite! -- Ann S. Lumsden
---
Group photos taken at Wakulla Springs Lodge
Friday, June 12, 1998

Row 1: (left to right) Carol Jansky, Carol Roote, Mary Culp, Elizabeth McCain, Larry Klotz, Arthur Skura, Alice Lindahl, Mary Schaeffer, Christie Howard, Valda Zobens, Angela Gloss.
Row 2: Kathy Nolan, Bill Glider, Joy Perry, Janet Sherman, ?????, Lucy Dyer, Carl Stiefbold, George Schaeffer, Jerry Schwab, Kathy Schwab, Phil Penner, Marge Connell, Corey Goldman, Nancy McInerney, Susan Schenk.
Row 3: Scott Figdore, Annette Rogers, Maggie Haag, Eileen Lyons, Jacqueline McLaughlin, Charlie Zimmerman, Hazel Skinner, Karen McMahon, Ron Jyring, Michael Stone, Adrienne Peacock, Bill Dietrich, Ed Connor, Bette Nicotri.

Row 1: (left to right) Kim Christopher, Laura Thompson, Ruthanne Pitkin, Mike Clayton, Steve Anderson, Teresa Hanlon, Bill Wischusen, Ann Jolissaint, Kristen Bender, Molly McCarthy, Lori Hertel, Anna Wilson, Ann Lumsden.
Row 2: Marcia Williamson, Louise McBain, Tom Fogle, Tom Colton, Jane Beiswenger, Dennis Pfeffer, Carolyn Bosse, Susan Kolbe, Lorraine Anderson, Diana Fletcher, Roberta Williams, Roberta Ellington, Mary Nossek, Karin Readel, Kathy "Killer" Miller.
Row 3: Bill Clark, Jim Horwitz, Ed Andrews, Ron Beiswenger, ?????, Alec Motten, Brad Williamson, Tom Worcester, Mark Degner, Greg Young, Bob Kosinski, John Williamson, Paul Willing, Ruth Beattie, Linda Collins.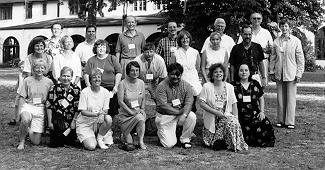 Row 1: (left to right) Sheryl Shanholtzer, Nancy Goodyear, Marsha Fanning, Laura DiCaprio, David Woodman, Anne Cordon, Catherine Teare Ketter.
Row 2: Judy Morgan, Marcie Wendeln, Sandy Buckles, Jeff Sheedy, Nancy Heins, Blythe Nilson, Jon Glase.
Row 3: Chip Devereaux, Jim Bader, Norm Scott, Mike O'Donnell, Alan Gubanich, Dave Smith, Roz Potter.
---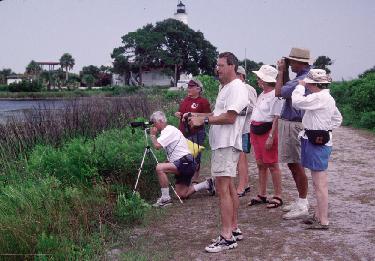 ABLE "birders" at the .... (photo by Tom Colton)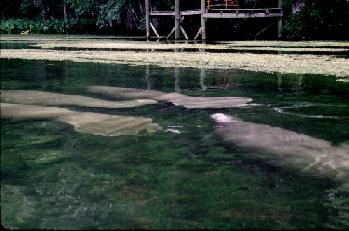 Mantees glide pass ABLE canoers on the Wakulla River. (photo by Tom Colton)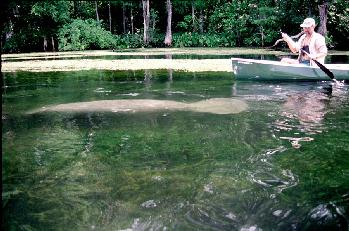 Manatee "meets" ABLE founding member Jon Glase. (photo by Tom Colton)
---